All Hallows was founded by Fr John Hand in 1842. He had a vision of establishing a Catholic Seminary for Foreign Missions. With the support of Archbishop Daniel Murray and Lord Mayor Daniel O'Connell, he secured Drumcondra House and opened the seminary in October 1842 with eleven students.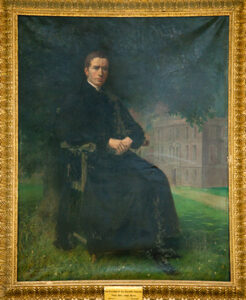 Fr Hand died in 1846, but the seminary continued to grow with the increased demand for priests to minister to the Irish diaspora, which was burgeoning due to the Great Famine. Priests from All Hallows were sought by dioceses throughout the English-speaking world, particularly in America and Australia.
Fr Hand was followed by twelve further presidents. In 1892 the Vincentian order took administrative responsibility for the running of the college. From then on, all presidents were Vincentians and the Vincentian values of leadership, social justice and service begin to inform the educational focus of All Hallows.